Summer may be winding down, but the average temperature in Gainesville is still 90 degrees and cold treats are still on everyone's mind. In honor of National Ice Cream Sandwich Day we've got three delicious ice cream sandwich recipes that you can make at home!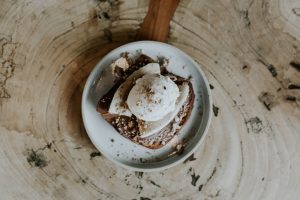 Our first two recipes come from Delish and are the ice cream sandwich twists of the classic breakfast foods, cereal and cinnamon rolls.
Fruity Pebble Ice Cream Sandwich
Ingredients
3 tablespoons of butter
1 10-ounce bag of marshmallows
6 cups of Fruity Pebbles cereal
1 pint of ice cream of your choice
Instructions
Grease a sheet pan
In a saucepan melt butter and add marshmallows. Once completely melted and smooth remove from heat and stir in Fruity Pebbles until coated
Press mixture onto sheet pan and let cool for 20 minutes
Use a cookie cutter to cut out 8 circles and add a scoop of ice cream
Freeze until ready to eat
Cinnamon Roll Ice Cream Sandwich
Ingredients
1 tube of refrigerated cinnamon rolls
1 pint of ice cream of your choice
Instructions
Bake cinnamon rolls according to packaging and let cool
Halve the cinnamon rolls and freeze for 20 minutes
Add ice cream and drizzle icing from cinnamon roll packaging
Our third recipe is a classic ice cream sandwich from Martha Stewart's website.
Ingredients
½ cup of unsalted melted butter
½ cup of sugar
1 egg
1 tablespoon of vanilla extract
½ teaspoon of salt
½ cup of flower
¼ cup of unsweetened cocoa powder
2 pints of ice cream of your choice
Instructions
Preheat oven to 350 degrees
Butter a pan and line with parchment paper
Whisk butter and sugar together; add in egg, vanilla, and salt; add cocoa and flour until smoothly mixed. Spread in prepared baking pan. Bake until cake is dry to the touch and edges begin to pull away from the sides, 10 to 12 minutes. Cool completely in pan.
Using paper overhang, lift cake onto a work surface. With a serrated knife, halve crosswise. Place one half of cake, flat side down, on a large piece of plastic wrap. Spread with ice cream, then top with remaining half of cake, flat side up. Return ice-cream sandwich to baking pan, and wrap tightly in plastic. Freeze until firm, about 2 hours.
Unwrap sandwich; using a serrated knife, cut into 8 rectangles, wiping off blade between each cut. Serve ice-cream sandwiches immediately.
We hope you enjoy these recipes. If you end up making any of them share pictures with us on our Facebook wall!