Recent house fires in Jonesville and Blues Creek serve as unfortunate reminders to homeowners about the importance of home insurance in Gainesville, FL. Although Florida homeowners may be more aware of summer fires that can be brought about during hot months with little rain, winter weather is cause for concern as well.
The dry, winter air, as well as the combination of heating devices, holiday decorations and fire places can be a recipe for disaster. Home insurance provides protection for your dwelling and belongings in the event of an accidental fire.
Fire Safety Tips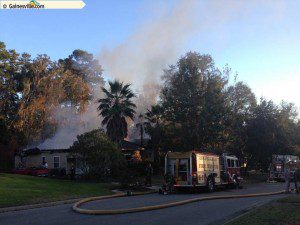 Have a plan: Homeowners and their families should have an escape plan in the event a fire occurs while individuals are present.
Check your smoke detectors: If you forgot to check your smoke detectors when you changed your clocks, do so now. No really – get up and check your smoke detectors, if you don't now, you may not later.
Have your fireplace properly inspected before the start of the winter season and properly clean and put out fires after each use. Never leave burning or hot coals unattended.
Use electrical heating devices with caution. In addition to heating your home safely, if it is the holiday season, be sure to unplug all electrical decor and lights when going to bed or the home is unattended.
We hope these fires safety tips prove to be beneficial for your and your family this winter season and for many to follow. If you have any questions, please feel free to comment below or call us directly at (352)371-7977.