Christy McCumber
Get to Know Christy McCumber
I was born in West Virginia but raised in Mount Dora, Florida before moving to Gainesville for college. My husband Josh and I met in youth group at the age of 17 and have been together ever since. We moved to Gainesville in 2003 for my husband to go to UF and never looked back.
I started my insurance career in 2008 in Group Benefits for the State of Florida. After gaining experience in that field, I was wanting a change but still enjoyed insurance so I shifted to Property & Casualty in 2015. I really enjoy helping clients feel valued and keeping up with the ever-changing market.
We have one son, who is currently a freshman in high school and nothing brings us more joy than watching him play basketball. We also have two British labs, Gemma and Gunner, that keep us busy.
We love all things adventure and making memories together. Some of our favorites are theme parks, kayaking, hiking, zip lining, diving, snorkeling, the beach, weekend getaways, cruises, and travel in general.
Christy can be reached at (352)371-7977 or by email: [email protected]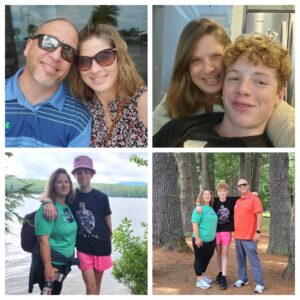 Fun Facts About Christy McCumber
Favorite Vacation: Hawaii!
Favorite Time of Year: ALL THINGS Christmas!
Favorite Quote: From my mom who is in Heaven – "This too shall pass." It's a sweet reminder for me every time life is not the way I want it to be.