It probably wasn't terribly shocking to many that Taylor Swift's "1989" won album of the year. Or that Ed Sheeran's hugely popular song "Thinking Out Loud" took song of the year. Meghan Trainor was a well-deserving recipient of best new artist and Bruno Mars' Uptown Funk swept record of the year. These are just a few of the gold trophies that went out in last night's ceremony for the 2016 Grammys.
Awards make people feel a certain kind of way. It's important in today's world to recognize and encourage success. Good people doing good things. McGriff-Williams has been honored to accept many awards of our own that we're very proud of and motivated by.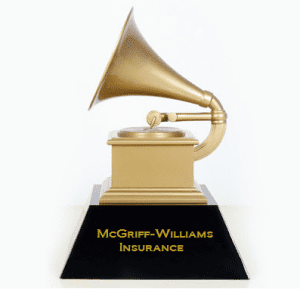 America's Best Independent Agency to Work For – Insurance Journal
Tower Tier Award – Tower Hill Insurance for personal lines production
Platinum Agency Award – ASI & Progressive Insurance (less than 2% of agencies receive this award)
Florida Blue Award for Top 5 agency in the northeast region for Medicare supplement sales and Top 10 in the northeast region for individual under 65 plan sales
Florida Blue Award for Top 15 agency overall in the state of Florida
"Witness Greatness" was the takeaway message from last night's show. We feel confident that's exactly what will happen with random acts of kindness happening tomorrow too. We appreciate the loyalty of our clients over the past 33 years and are grateful for the various acknowledgments we've earned.
We challenge you to share your admiration of others, especially tomorrow, and hand out your own awards…. Whether it's a smile for a stranger, picking up the coffee tab for the car behind you or sending a handwritten note to someone you haven't talked to in a while. We all need to recognize and reward good people doing good things.