Twas the week before Christmas and all through the office, not a creature was stirring, not even the bosses. As the holidays approach everyone is gearing up for spending time with family and loved ones, eating delicious foods, and listening to Mariah Carey's "All I Want for Christmas is You†on repeat. It appears that every family has their own traditions so in the spirit of the season we went searching around the office to figure out some.
Christmas Decorations
While some Scrooges like to wait until it's closer to the Holidays to do their decorating others want the head start. Our receptionist, Brianna, and her family do their decorating the day after Thanksgiving. Don't leave them up to long! For them it's bad luck if they don't take them down before the New Year!
Special Wrapping Paper
Wrapping paper is a fun and creative way to keep gifts a secret and add decoration to your home depending on what you choose. Our accountant, Terry, picks a special wrapping paper for each of her family members and wraps all of their gifts in it. This year she chose Star Wars for her son and kittens/puppies for her daughter.
Christmas Eve Gift
A few of our staff resonated with the time honored tradition of having one special gift to open on Christmas Eve. For some it's a pair of festive pajamas to wear while waiting for Santa to bring the rest of your gifts. For others their children were overjoyed to get a Christmas Eve gift to keep their attention during Midnight Mass. No matter what the gift it's exciting to get something leading up to the big show on Christmas Day. Bonus points if you get holiday pun pajamas that you can wear while you watch How the Grinch Stole Christmas!
Christmas Day
While you may find yourself begging your kids to get up for school in the morning they're surely up before the sun on Christmas morning. For one of our Personal Insurance Advisors, Courtney, her family quells the kids desire to open gifts by letting them open stockings. This allows all the adults to wake up a bit. Much to the chagrin of the kids they aren't allowed to open the rest of their gifts until after Christmas Brunch.
Another Christmas Day tradition is food! One of our Business Account Advisors, Lisa, shares a tradition with her mother and family of making spaghetti. Her mom is Italian so after opening gifts the family makes the sauce and pasta from scratch. Lisa's kids get involved and love turning the handle of the pasta machine and playing with the dough (and making a mess!). Lisa shared this picture of her family making their Christmas Day Spaghetti.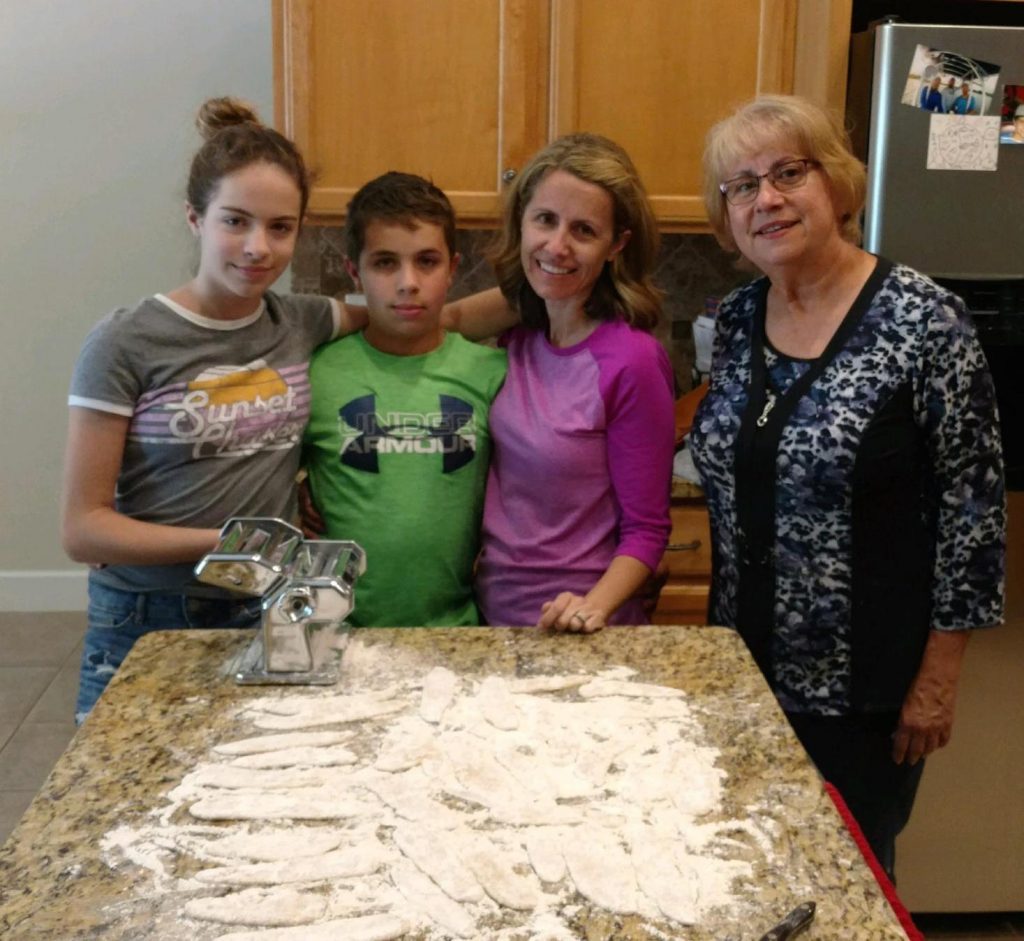 Traditions are important to everyone around the holidays. We hope you've enjoyed reading about ours and have a Happy Holidays and New Year!